Pie for Breakfast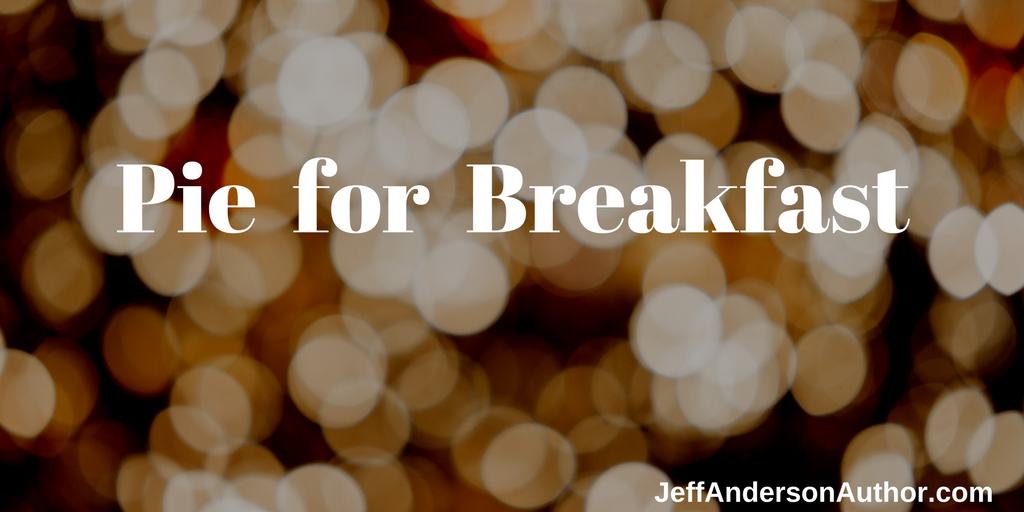 If you're like me, it's the time of year we start thinking of things we want to do better in the coming New Year.
My eating has spiraled out of control, I'll drop some pounds… in January. Better get back to the gym… after the Holidays. And I might as well throw Bible-reading into the New Year's basket, too.
Stop.
Don't add the Bible to the list.
Instead of demoting Bible-reading to the list of things we'd like to do better next year, how about we set it in motion – this month.
Make Bible-reading a part of your Holidays. That's what the Israelites were instructed to do.
Holidays are for feasting
Did you know God gave the Israelites a 12-month calendar, complete with three sets of holidays?
Passover was an eight-day festival with three separate feasts; Pentecost, a single day feast-holiday; and Tabernacles, a 22-day stretch, with three feasts. In all, seven feasts covering just over 30 days.
And among the various activities prescribed for these holidays was? You guessed it, reading the Scriptures. (Examples below).
Bible engagement is falling out of favor today. I'm not talking about the book being undermined by public schools or governments. The Bible is falling out of favor in Christian homes. 
It's not that we don't believe the Bible. And it's not that we don't consider it to have power and authority from God. We believe that too. Mainly, we've taken the Bible too casually.
We seem to live just fine without it. So we do.
Be honest. Can you relate to the statement above?
Just like I seem to live just fine without any green vegetables for days after Thanksgiving, (read: pie for breakfast) we seem to function normally without feasting on the Bible. But deep down we know we're not nourished, and neither is our family.
This is an invitation not to make a New Year's resolution. Instead dig out your favorite Bible and start reading something today. (Ideas below)
I know how busy holiday season can be—traveling to Grandmas, shopping with sisters, hunting with brothers, watching football with Dad, cooking with cousins. This is what the Holidays are for.
But I encourage you to also find time to spark a needed connection with God's Word, one that can carry you into the New Year also. Pull up to the fire (dream with me), wrap up in a blanket with your favorite drink, and open up the book.
Where to start
Here are a few more interesting facts about Bible-reading:
Volume reading is good for us: [Deuteronomy 31:10-11] Before Moses died, he commissioned Joshua to take over his leadership. In his parting words, Moses instructed the Israelites to read the entire law at the end of every seven years (traditionally during Tabernacles festival). Crank up your reading pace and hold on.
Involve the entire family: [Joshua 8:34-35] Shortly after Joshua crossed into the promised land with the Israelites, all the families gathered to hear the reading of the entire law. This included men, women and "little ones" (ESV) or "children" (NIV).
(This one has me scratching my head. Were kids really able to sit attentively during these reading sessions? Be creative. For me it means sending the kids outside to play while I have time alone. I've learned that as I feed my own soul, I naturally find ways to feed my family also.)
Devote large chunks of time : [Nehemiah 8 and 9] After 70 years of Babylonian captivity, the Israelites returned to Jerusalem to rebuild the temple. During the Feast of Booths (part of the Tabernacles festival), Ezra the scribe read and taught the entire law to families.
On one particular day they read for six straight hours! (Nehemiah 9:3)
Here are a few ideas to consider for this year's Holidays
Read the entire Bible in December – It's an ambitious read, but for the hungry goal-setters, it's doable. [Note: read super fast for coverage, not for study or reflection]

Read the Old Testament in December

Read the New Testament in December

Read selective Gospel passages each day from December 18 through 31  (14 days).

Commit a full day (or even half a day) of your vacation or Holiday to read a large portion of the Bible

Or make up your own rhythm for being in the Word this Holiday season.
You get the idea. We need God's Word in our lives. We were designed to feast on the Bible during holidays.
Just like pie for breakfast, the concept might seem strange… yet satisfying.
Say grace and dig in.