Getting Ahead of Fake News – with Angels & Shepherds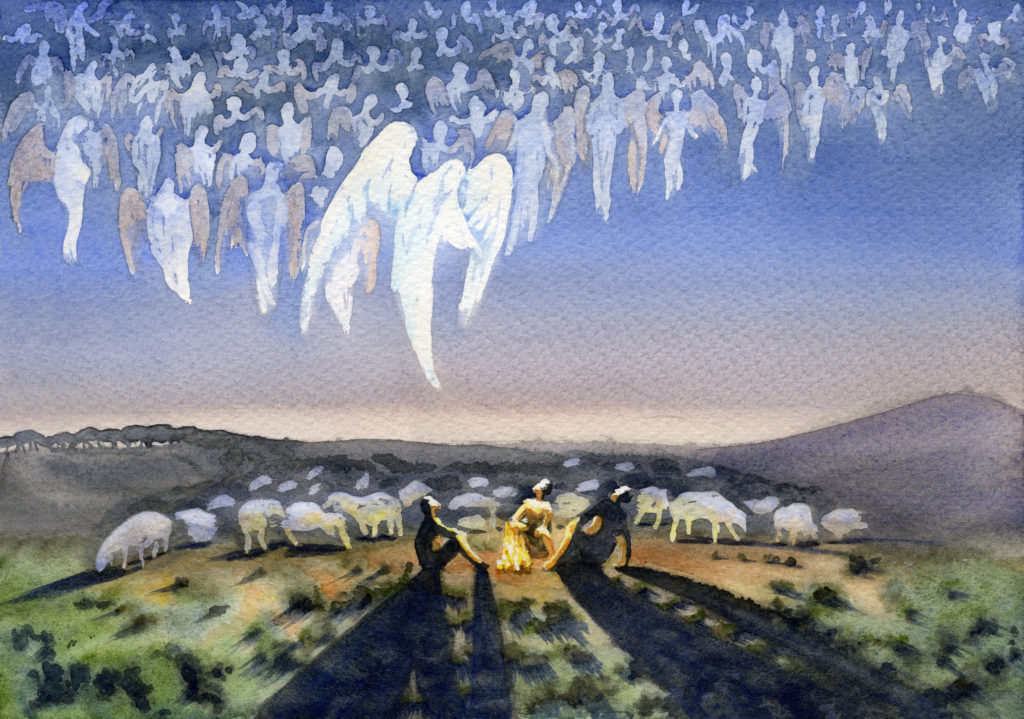 After the birth of Jesus, God wanted the word out.
An occasion like this warrants some visitors. I doubt there were in-laws in the manger waiting area. And wise men wouldn't appear until much later, after the news died down.
This was before Facebook and Instagram. Mary wasn't the hashtag kind of girl, anyways.
#mywaterbroke… #tiredofsittingonadonkey… Nope.
Nor was Joseph passing out cigars, fist-bumping the innkeeper while fumbling with his Apple watch.
They were discreet parents, not the kind to need a lot of pampering. That's probably why God selected them.
Before there were gender reveal parties…
The previous nine months were awkwardly silent for Mary and Joseph.
Mary did not ask for a pregnancy test but got one anyway – a private chat with the angel, Gabriel. And Joseph had his own private reveal session with an angel visit in a dream.
Still, this teenage mother and nine-month husband could use some encouragement from the outside world.
More importantly, eyewitness accounts would be essential for the future gospel movement.
Fake news is nothing new.
This story has had its share of fake news for 2,000 years (Jesus isn't real, Mary was not a virgin, etc.)
Thankfully for God's reveal plans, there's been quite a story to tell. Families around the world have been reading it at Christmas for centuries (Luke Chapter 2).
God's press release strategy was unique but not unprecedented. Dispatch a team of angels.
A particular angel was released at some nearby shepherds. It's hard to place these shepherds in today's context. Maybe farmers hanging out at the local coffee shop or feed lot.
My wife is from a small town and I'm told that grown men in Carhartt overalls can spread news faster than church ladies.
Coffee talk
The shepherds were in the fields during the night watch when they saw this particular angel. It must have been a sky angel – not the kind standing on the ground. This scene spooked the shepherds and the angel knew it.
"Fear not, for behold, I bring you good news of great joy that will be for all the people" (Luke 2:10).
And then it happened.
A "multitude of the heavenly host" (v13) appeared and lit up the sky, singing and heaping praises to God. I don't know if a heavenly host means dozens, hundreds or thousands of angels in the sky. Whatever it was, this type of angel scene was not normal.
And I don't know how long the serenading lasted. Assuming the shepherds didn't pass out, it could have been seconds or minutes.
When the angels disappeared back "into heaven", the shepherds dropped their Yeti mugs (or something similar) and took off.
"Let us go over to Bethlehem and see this thing that has happened, which the Lord has made known to us" (v15).
The Bible says, "they went with haste." (v16). Everyone likes to be the bearer of fresh news, right?
When the shepherds arrived they saw exactly what they needed to see. The angel had told them, "And this will be a sign for you: you will find a baby wrapped in swaddling clothes and lying in a manger" (v12).
This was before Monster drinks and 5-Hour Energy shots. Still, the shepherds chatted up a storm about the serenading angels, talking over one another and waving their arms in jumping-jack fashion to describe the assortment of sky wings they had seen.
No matter how hard they tried to one-up the previous storyteller, nothing could measure up to what really had happened.
We all need reminders and affirmation from God. Mary was no different. 
I imagine Mary had plenty of questions leading up to that day. Why me? Is this truly happening? Will this baby really be special? How will I know? Will Joseph be convinced too?
Listening to the shepherds cleared up some things for Mary. She sat there quietly and soaked in their stories… and "treasured up all these things, pondering them in her heart" (v19).
Joseph needed affirmation too. He had his own questions. What's it like to be a father? I've never even KNOWN the child's mother! How long will people keep giving us strange looks? Is this child really from God? How will people know? Is it our job to tell them? Who will believe us?  
The visiting shepherds provided more than just body heat in the stable. Their report of the angel and of the heavenly host reminded the parents their son was truly special.
These parents did not need to worry about sharing the news.
Mary could just relax, be herself and treasure the stunning goodness in her heart (#proudmangermama). And Joseph could stick to being Joseph – quiet, faithful, steady plodding, looking ahead.
With the tag team efforts of angels in the sky and shepherds on the ground, the eyewitness account of a baby in a manger has been collecting "likes" and "follows" for 2,000 years.
Hark! The herald angels sing.
 Next time I'm sitting through a Christmas play, listening to a song about angels on high, or reading the Christmas story in Luke Chapter 2 – I'll think more deeply about these angels. Their role was monumental in shedding such divine light on this miracle birth.
And when I see images of shepherds in nativity scenes, I'll be reminded of their foretold encounter – with the heavenly host in the sky.
It's a truly stunning story. Don't let it become too familiar.