There's a new champion fundraiser in town. Her name is Vision.
She's not really new.  She's been helping congregations raise money since the early church began, and in Old Testament times, too.
Is it just me, or are we seeing increasing reliance on "vision" in our modern church context?
Everywhere you turn, vision seems to be the answer to the problem at hand, especially if it involves finances.  Leaders and consultants say that money follows vision.  And it's true.
Craft vision… cast it… celebrate it… and repeat.
Vision is essential. Without it, the people perish.  That's what the Bible says.  And without it, a church may perish. Whether it paints a picture of a new building, a multi-site campus, serving the community, planting missionaries, or digging water wells, good vision helps people see the gap between what isn't and what could be – and most importantly, to do something about it.
Tastes Great
Vision inspires people to give when plans are polished and leadership is poised; when needs are clear with price tags attached; when opportunities are abundant and excitement fills the air.  Vision is great for these conditions.
Could we have too much of a good thing, though? When it comes to church finances, there's unfortunate fallout from over-emphasis on vision.  As vision launches to the forefront, foundational teaching on giving can be pushed aside.
Less Filling
When plans have been fulfilled (or lost their curb appeal) and leadership is focusing on other important areas, or when the mood is doubtful or weary, what helps God's people give in those seasons? Doctrine does!
What helps people give every day—as a lifestyle?  And what helps these lifestyle givers disciple others? Again, doctrine.
When I say "doctrine," don't think of mahogany bookshelves, six-inch thick Bible commentaries, and academic dissertations. I'm talking about discipleship, highlighting biblical stories of gifts to God, and teaching the principles that show up in those pages. These gifts are showcased from Genesis to Revelation, but are your people acquainted with how God sees our giving? (Statistics prove they are not.)
I'm not talking about just stewardship education. Your people are in desperate need of a biblical perspective on giving. And if that sounds boring or daunting—maybe you're in need of one as well!
Vision appeals are necessary and good—but only bringing up this topic when there's an "ask" will not develop people's spiritual connection to their gifts.
So, I'd like to challenge you. Have you been relying on vision to communicate about financial giving? Is financial need driving your vision communications?
Vision is Not Discipleship
As church leaders rely more and more on vision for raising money, the perceived need for true understanding on this subject can decline. Of course the need for money never stops… nor does the pressure for new vision to attract it.
How long can this really go on?  If vision is coffee, doctrine is oatmeal. Caffeine is great, but we need solid food to go the distance.
In today's vision-funding environment, one must wonder, are we just Tazer-ing our people with Vision Blasts, or feeding their souls? Are we over-selling vision, or helping them understand and grow?
After all, it seems easier to cast vision than to teach a biblical foundation of giving.
Vision is fun. Doctrine is dicey.
Vision engages imagination. Teaching requires study, thought, and some tension.
Vision sails gracefully on the winds of moving music, eye-popping PowerPoints, and goals.  Understanding involves small-font Bible references.
But…
Doctrine is inspired. It floats on the pages of scriptures and is carried by the spirit. This instruction is "God-breathed and is useful for teaching, rebuking, correcting and training in righteousness." (2 Timothy 3:16)
It can fund a vision, too!
If the goal is to simply raise money, vision can be king—for a season. But if the goal is to see people develop spiritually and grow closer to God in their giving (both in and out of vision season), then deeper instruction is needed.
Vision: It's Not Generosity
Generosity…The word has been seen hanging out quite frequently with the word vision. They seem to have a thing going on. The idea is this: cast vision, collect money, meet goals, and therefore "generosity" exists.
If we're not careful though, we can convince ourselves that vision creates generosity.  It might.  But it might not.  It all depends on your definition of generosity.
Is generosity the fruit of the campaign?  Or, is generosity a fruit of the spirit?
Spiritual (biblical) generosity is a measure of how God sees the gifts of His children. Campaign generosity is often how we measure progress towards the funding goal.
When Apostle Paul was raising money for the famine-plagued Judeans, the initial gifts were from the poorest church, the Macedonians (2 Corinthians 8).  It surely wasn't enough to meet the need at hand.  The vision was much larger.  Still, it was enough for Paul to declare a state of generosity (v2).
But the campaign was far from over. We might say it hadn't even started. Today's "generosity campaigns" often launch with lead gifts from the wealthy. We have a goal to meet. However, the affluent Corinthians came in last – or maybe not at all.  We don't really know.  They submitted their pledges and a token gift to get started (v10), but their response was lacking, and Paul was sending the buckets back around again.
Paul's two-chapter note (2 Corinthian 8 & 9) is perhaps the most famous passage today for teaching on giving. It is saturated with that doctrine stuff (insight into God's perspective). We know very little about the vision Paul must have shared to improve the conditions of the needy.  And we never find out about the success of the campaign. Was the vision clear? Was it effective? All we know is that generosity was celebrated by a blue-collar church that day, and the campaign was far from over.
More Challenge
If we're not careful, we're unconsciously teaching people to set their minds (and their gifts) on what's "below", instead of what (and Who) is "above" (Colossians 3:2).
Are you reminding your people about the scriptural insights on how God measures their gifts, and not just how the church measures the campaign?
Scripture is full of insights on how God reacts to our gifts. Are you teaching your people that giving is about pleasing God first and meeting needs second?  (Does that make your head tilt?)
Do your people know it's possible to write a check that doesn't get God's attention? Do they know their gifts can bring delight to His heart? Are you helping your people understand what God calls an "acceptable gift"? (2 Corinthians 8:12)
Giving was designed to be a part of relationship with God. Are you willing to give your people the freedom to walk away with their gifts, in order repair their relationships first? (Matthew 5:24).
In my years of working with churches, and teaching people about how God delights in gifts from His children, I've seen that counter-culture, and counter-intuitive, really works in the Kingdom.
From the Inside Out
Vision is from the outside in. Teaching builds from the inside out.
Continue to cast vision and appeal for needs. We need vision. But biblical understanding and revelation builds a foundation in people that lasts beyond every campaign. It outlasts you! When a person understands how God sees their gifts, their approach to giving is transformed for the rest of their life. And that revelation gives them something to teach their family. When you teach your people to love God, through their gifts, they will give when compelling vision presents a need; and they will give when a campaign season is over.
When people have a solid foundation, they will rally as the vision plans are announced and the shovels hit the dirt. If the project goes south; they will shovel grace in your direction and give anyway… because doctrine goes deeper than vision.
Visionary leadership is hard work. By faith, we trust the vision we cast is from God and not just our own hopes and dreams. Even so with God-inspired vision, things do not always unfold like the brochures suggest. In those times, you'll be glad that you and your people are on the same page with biblical understanding.
When Vision and Reality Meet
There will come a day when there will no longer be need-based vision and need-based giving. The redemptive work on earth will be over.
Campaigns as we know them will end. But the beautiful gift of giving will continue.
For eternity, God's children will bring gifts to Him. We'll start with the very crowns from our heads (Revelation 4:10), and we'll continue giving from whatever else we are given.
Now that's a vision.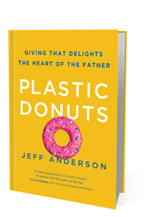 CASE STUDY
Please feel free to contact me with questions
– Jeff